10 Mason Jar Salads That Will Make Your Co-Workers Jealous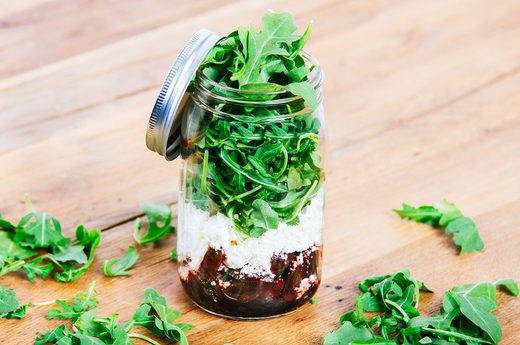 LEMONGRASS BEETS AND FETA SALAD:-Steaming beets with a stalk of lemongrass creates big flavor with only minimal effort. Lemongrass has assorted B vitamins and is antimicrobial. Sheeps milk cheeses tend to be tangy, and the subtle citrus of lemongrass brightens the cheese and brings out its sharpness. The sweet beets balance out arugulas peppery flavor. Beets contain manganese and folate and are colored by betalains, which are powerful phytonutrients that give this beautiful root veggie its color. A quick drizzle of olive oil and vinegar is all this salad needs.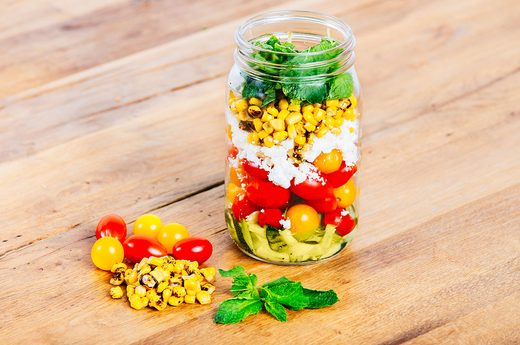 ZUCCHINI AND ROASTED CORN SALAD:-For this Mason jar salad, you don't even need a spiralizer to shred the zucchini -- a mandolin or grater will do the trick. By salting the zucchini and letting it drain, you remove any bitterness and enable it to keep in the fridge for days without oozing water. Cherry tomatoes, roasted corn and fresh mint add a vibrant splash of color to this refreshing salad.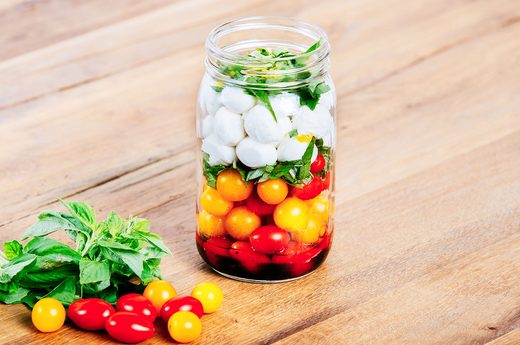 CAPRESE SALAD:-This simple but delicious Italian salad makes for a low-carb, high-protein lunch. If tomatoes are in season, Caprese salads are the perfect way to take advantage of them. Fresh mozzarella is high in protein and contains nutrients like niacin and biotin. Basil is anti-inflammatory, while tomatoes offer beta-carotene and folate. If available, choose heirloom tomatoes for a variety of phytonutrients and colors. Traditionally, Caprese salad has no vinegar, but many people prefer it with the tart addition of balsamic or red-wine vinegar.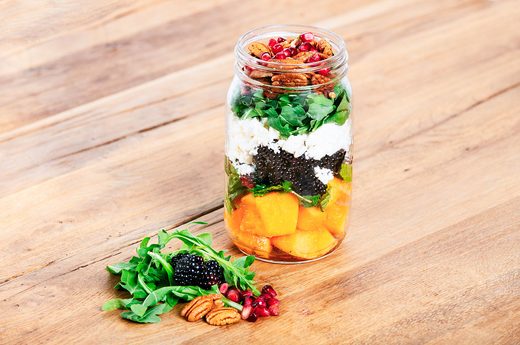 CANTALOUPE AND BLACKBERRY SALAD:-This refreshing cantaloupe and blackberry fruit salad is perfect for a hot day. Cantaloupes offer high water content to ward off dehydration and can help decrease the risk of obesity, diabetes and heart disease. Antioxidant-rich blackberries help enhance memory, heart health and immunity. Toss in creamy feta and peppery arugula for an irresistible salad that's both sweet and savory.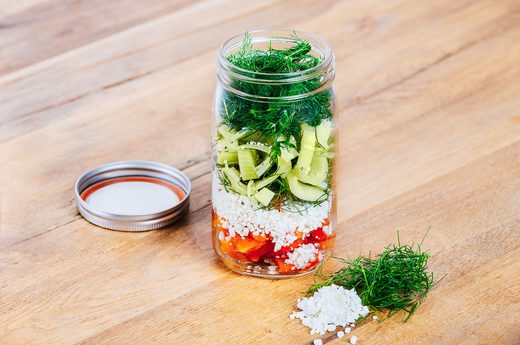 RICED CAULIFLOWER SALAD:-"Riced" cauliflower is cauliflower thats been chopped up until it looks like grains of rice. You can use a food processor or you can buy "pre-riced" cauliflower from most grocery stores. Here, its cooked with fresh turmeric, a powerful anti-inflammatory root that also provides a beautiful yellow color. Chopped bell pepper and fennel add crunch and vitamins; hemp seeds provide omegas, fiber and protein; and fresh dill provides a hint of sweetness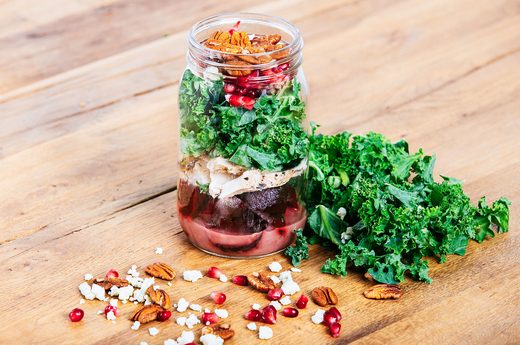 CHICKEN, KALE AND BEET SALAD:- This healthful salad packs protein, vitamins and other nutrients into one jar. Beets help with digestion, skin care and blood circulation, while kale brims with iron, vitamin K and antioxidants. Add Gorgonzola for salty, crumbly goodness, along with pomegranate seeds and roasted walnuts for crunch.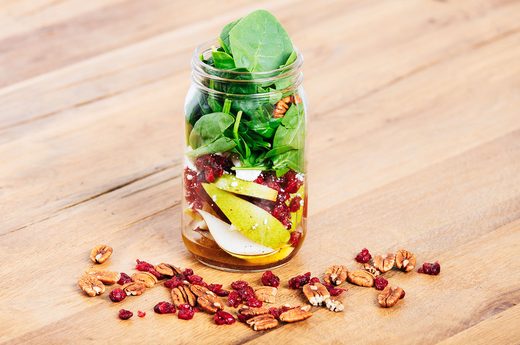 PEAR AND CRANBERRY SALAD:- There is something comfortingly festive about pairing pears with cranberries and pecans. Pears boast fiber, vitamins and phytonutrients, while cranberries can offer protection from cavities, urinary tract infections and inflammatory diseases. Add spinach for even more vitamins and feta cheese for a delectably creamy topping. You can mix green pears with red ones to add even more color to this salad.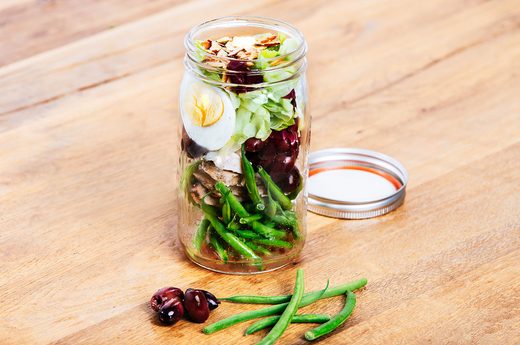 MODERN NICOISE SALAD:-A salade nicoise is a classic composed salad, which means each part is dressed individually and not tossed together. It usually contains tuna fish and anchovies, but this modern take uses chicken instead. The dressing is a simplified version of a nicoise dressing and contains the standard raw garlic, which is an excellent antibacterial and antioxidant. The end result is a modern version of a classic that's quicker and healthier than the original. Add sliced almonds for crunch, protein and fiber.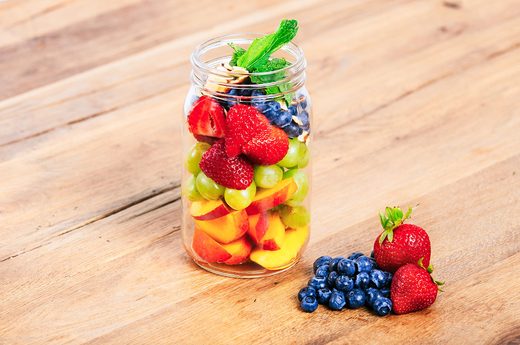 CITRUS MINT-GLAZED FRUIT SALAD:- Fruit salad is sweet and refreshing, especially when topped with a citrus glaze. While this recipe includes strawberries, peaches, blueberries and grapes, you can swap in any of your favorite fruits. You can use lemon or lime juice: Both will serve the same purpose of providing tartness along with vitamin C. Fresh mint is more flavorful than dried, so its worth buying a small bunch.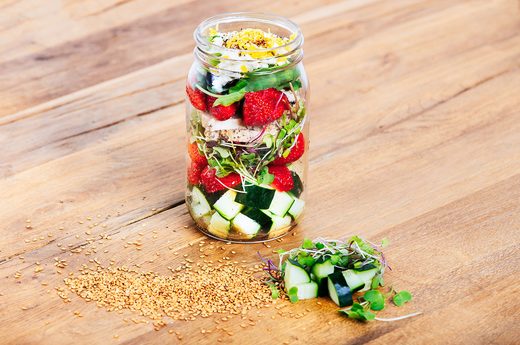 STRAWBERRY, CUCUMBER AND CHICKEN SALAD:- Adding fruit to salad can turn an ordinary bowl (or jar!) of vegetables into a sweet treat. Here we mix sliced strawberries with cucumbers for a salad thats both sweet and refreshing. Chia seeds contribute omegas, while microgreens offer a high dose of vitamins. Top off the salad with grilled chicken breast for a protein boost.